Welcome to Oregon Spirit of '45
Due to COVID 19, our Spirit of '45 Initiative plans to sunset by December 2020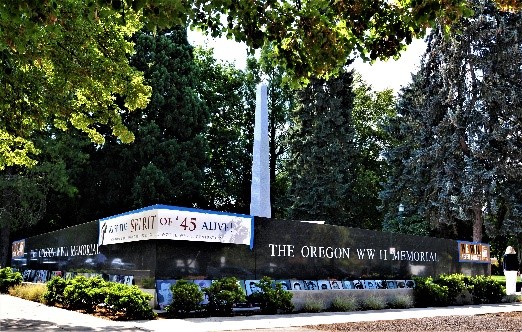 Due to COVID 19, the decade long Spirit of '45 initiative In the state of Oregon plans to sunset by December 2020.
Due to COVID 19, the 75TH Anniversary WWII National Wall of Honor Project in Washington DC is CANCELLED.
Our Spirit team has been rewarded by the WWII Generation's zest for life and rich stories. We are grateful to have legislated every 2nd Sunday of August in their honor, OR Spirit of '45 Day.
Thank you for honoring our WWII vets by sending in photos and data. While we are all challenged in these times, a few of us in the Oregon Spirit of '45 team will continue to volunteer. through 2020.
Photos submitted to our Oregon Web page will be accepted and processed through Spirit of '45 Day, August 9, 2020 –the 75th Anniversary of the end of WWII.
The future of the OR Spirit of '45 website is unknown; we will explore options for this legacy data.
All photos submitted by August 9 will be forwarded to the national campaign.
Through their Memorial on the Oregon State Capitol grounds and our data collection, the Greatest Generation's legacy values of courage, 'can do' attitude, shared sacrifice, service and SPIRIT …
WILL NEVER BE FORGOTTEN.
Thank you for your support. Oregon Spirit of '45 Board
July 2020
Capturing The Spirit of '45
Albany Veteran's Day Parade
Youth – Remember and Be Inspired
We are collecting WWII photos of vets who inspired and laid the foundation for the world we live in today.
UPLOAD your WWII legacy photo and help build our Wall of Honor

for those who served 1941-45.
Our Mission: To commemorate the achievements and virtues of the World War II generation, on the 2nd Sunday of every August, so as to inspire future generations.
Please help us

KEEP THE SPIRIT OF '45 ALIVE

with a donation:
Countdown to Oregon Spirit of '45 Events